Based in Ciudad Juarez, with offices across northern Mexico as well as El Paso, SYSOL provides its customers with state of the art network systems and building security.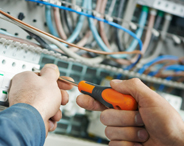 The company reflects the vision of our founder, Yiris Hallal, an engineer who has pioneered technologies that are widely used today—including systems that capture point of sale, track time and attendance, and enhance wireless data networks.
SYSOL has grown steadily since its founding two decades ago, and our ambitions for tomorrow include providing custom-designed services for even more U.S. manufacturers seeking to expand operations in northern Mexico.
We will always be committed to offering the expertise, flexibility and responsiveness that can give our customers a true competitive edge.