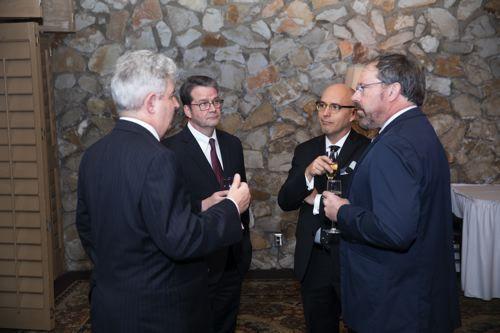 A Juárez security company that has offices in Mexican cities along the border is expanding into El Paso and will be relying on a big-name advisory board to help guide the company into U.S. business territory.
Thursday evening, SYSOL hosted a welcome dinner at Coronado Country Club for its seven-member advisory board with El Paso Mayor Dee Margo and the heads of the Greater El Paso Chamber of Commerce and Borderplex Alliance.
The board includes Lucía Navarro, a former CNN and Telemundo anchor, and Patrick Jephson, a CNN commentator and author whose experience ranges from Britain's Defense Ministry to serving as Princess Diana's chief of staff before her death.
A 52-year-old engineer, Yiris Hallal, started SYSOL two decades ago after landing a contract with the Mexican supermarket chain S-Mart to update their point-of-sale system from cash registers to a computer-based network.
Hallal said S-Mart, which now has more than 70 stores across Northern Mexico and is the leading grocery chain in Juárez, still uses an upgraded version of the system he put in two decades ago.
"With every new store they open, SYSOL goes in at the construction phase and installs their voice and data network, their surveillance cameras, sound systems and access control systems, he said.
SYSOL has about 100 employees and handles security systems for more than 60 corporate clients, including many of the major maquiladoras along the border.
The company has offices in Tijuana, Hermosillo, Chihuahua, Reynosa and Monterrey and is already doing business in El Paso with Tyco Electronics and other companies.